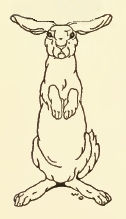 John the Rabbit is by far one of my most favorite songs. It comes from the American South, and is a wonderful example of  the African American call and response style. It has a long history, in fact, some say it refers to John Brown.
The call and response structure is easily and endlessly modified to fit nearly any situation. I have used this song as an easy way to get everyone participating and as a main activity in an early childhood classroom. I have had older kids jump the "yes mam"s, clap them, stomp them, wiggle them, whisper them and shout them. In some versions, you say "oh yes" instead of "yes mam" but I am partial to the mams.
Member Susan Salidor taught me a wonderful version where you use a small parachute and a toy bunny. The kids can help the bunny hop on the "yes Mam"s by bouncing it with the parachute. It never gets old, and the delighted giggles have made it one of my favorite classroom activities.
Here is my version from my album, If I Were a Little Bird.
This is a more low-key version from Elizabeth Mitchell for the Smithsonian Folkways Label:
Tell me about your variations in the comments!