Written by member Jenny Heitler-Klevans.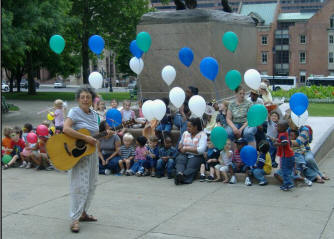 We are thrilled to be giving this year's Magic Penny Award to Ruth Pelham. The Magic Penny Award is CMN's lifetime achievement award, bestowed upon people who have dedicated their lives to empowering children through music.
Ruth Pelham is a singer, songwriter, educator, and activist who brings her unique vision of world peace and social change to children and adults around the globe. Ruth's music touches the heart and reflects the full integrity of the human spirit through her powerful anthems like "Turning of the World" and zipper songs like "Under One Sky."
She grew up in Brooklyn, NY, enchanted by street games, ethnic music, hootenannies and folk music by such artists as Woody Guthrie, Pete Seeger, Malvina Reynolds and Paul Robeson. During college she became a songwriter, raising her voice against injustice and sowing the seeds for the development of her pioneering work as a cultural worker and community builder.
In 1977, Ruth proposed the idea of the Music Mobile, a colorful van that would travel to parks, playgrounds, and public housing sites to engage children in interactive programs that foster cooperation, self-esteem, neighborhood pride, and appreciation of diversity. The City of Albany embraced her idea, and the year-round Music Mobile continues to this day with Ruth as the Executive Director. Music Mobile activities include group singing, songwriting, instrument building and cooperative games, as well as anti-violence initiatives such as "Planting Flowers…Planting Hope" and "Room For Us All." Music Mobile and Ruth also create and distribute educational recordings, calendars, and games.
In addition to her work with the Music Mobile, Ruth has participated in "peace-making through music" cultural exchanges with children in the Soviet Union and Sri Lanka. She was also a music and educational consultant for the Havasupai Tribe in the Grand Canyon, aiding their efforts to stop a uranium mine by writing songs with K – 8 students, then creating a recording to help raise funds and public awareness.
Ruth's songs have been influential in both children's and folk music, and in movements for social change and justice. Her songs have been recorded and performed by many artists including Pete Seeger, Ronnie Gilbert and Holly Near. Songs like "Under One Sky," "I Cried," "Look to the People," and "The Activity Room" stand as a testimony to her unique artistry as a songwriter.
As a founding member of the Children's Music Network and a board member for many years, Ruth has given her talents generously to building our organization. We look forward to celebrating her achievements at this year's Magic Penny Award Presentation at the CMN National Conference in Leesburg, VA Sept. 19-21, 2014.